The Best Locations for Romantic and Thematic  Pre-Wedding Photoshoots in Hyderabad
"A successful marriage requires falling in love many times, always with the same person."
A Pre-Wedding Photo Shoot is another opportunity to fall in love with your partner. A pre-wedding photoshoot helps you to know your partner better and develop a strong bond. Also, pictures capture moments forever. Pictures stop time and rewatch beautiful moments. But taking pictures at breathtaking locations adds another charm to your photoshoot. This blog covers the best locations for outdoor pre-wedding photoshoots in Hyderabad for amazing romantic pictures. A good photographer brings out the real essence and chemistry of the couple. Plus it helps the couple gel and get comfortable during poses and gestures.
Keeping in mind your budget needs we have covered the premium locations, budget-friendly locations, and free locations. All the locations below are perfect for pictures that tell your love story on Facebook and Instagram.
Best Premium Locations for Pre-Wedding Photoshoots in Hyderabad
Falaknuma translates to "Mirror of the Sky". It is a grand palace built in 1894 by the Great Nizam of Hyderabad. It is a royal picturesque palace. It has huge grandeur halls, darbar rooms, and bedrooms. It has huge chandeliers of the eighteenth century that add an exclusive aura to your pictures. It is the perfect premium place for pre-wedding photo shoots in Hyderabad for palace theme pictures. The picture will blow your mind. Photography is allowed only for guests. Outsiders can't get entry only for photographs. Prior permission is mandatory.
Ridhira Retreat is a calm and serene location for photoshoots. It hosts events, weddings, photoshoots (including pre-wedding), and various other functions related to weddings such as cocktail parties, Bachelor's, etc. It has beautiful locations to shoot pictures and even has a lake view spread across the property. They cater with the best services and hospitality.
As the name suggests, it is a Castle. For a thematic pre-wedding shoot, this place hits the perfect spot. About an hour away from Hyderabad, The Hidden Castle gives medieval king and palace vibes. It offers various backdrops of the castle, and riverside themes, the interiors paint your pictures beautifully. Plus along with that, they also have fun activities. So you can also plan a fun-based photoshoot with your partner which further builds strong bonding.
To get a more rustic photoshoot, the wilderness Retreat is the perfect match. It has a jungle-like feel as the name suggests – "Wilderness". It also offers its properties for pre-wedding photoshoots with advance bookings. It is just 15 minutes away from Hyderabad and is located in a quiet and calm area.  The Retreat offers scenic greenery and foliage for breathtaking snaps. 
Another superb property in Hyderabad for pre-wedding shoots is Fort Grand located 30 minutes away from the Airport. It has a brilliant convention hall which has a seating of 900 people, two Lawns, and two banquet halls. It is one of the finest destinations for capturing snaps. As it is Fort themed, one can take great pictures, the cherry on the cake will be royal outfits.
It is located in Mrugavani National Park which is 18 km away from Hyderabad. It is a nice spread of green across 1006 acres. It has a 150-seat banquet hall, lawn area and poolside area. It offers its property for pre-wedding photo shoots with prior permission. Also since it's located in a national park, you can take countryside elegant pictures. It is an excellent setting for pre-wedding photography in Hyderabad.
Aalankrita Resort & Convention
This property offers special offers for photo shoots and video shoots. It has the perfect ambience of calm and modern look. It has many areas for the best pictures like indoor area, outdoor area, poolside, convention centre, and picturesque region for outdoors.
Ramoji Film City is one of the biggest film shooting studios in India. It is one of the prime shooting locations for films. It brags of the most gorgeous gardens, fountains, and huge locations that are very similar to real-life spots, and is very vastly spread. You can't miss taking your pre-wedding photography in this lovely location.
This marvellous fort is located in Hyderabad. It is registered as an archaeological treasure by the Archaeological Survey of India. It is a historic fort and was built in 1687. It consists of many palaces and mosques which are mostly destroyed over years. The fort offers itself as a prime location for pre-wedding photography. It will add a dash of historical theme to your photographs.
The Best Budget-Friendly Locations for Pre-wedding Photoshoot in Hyderabad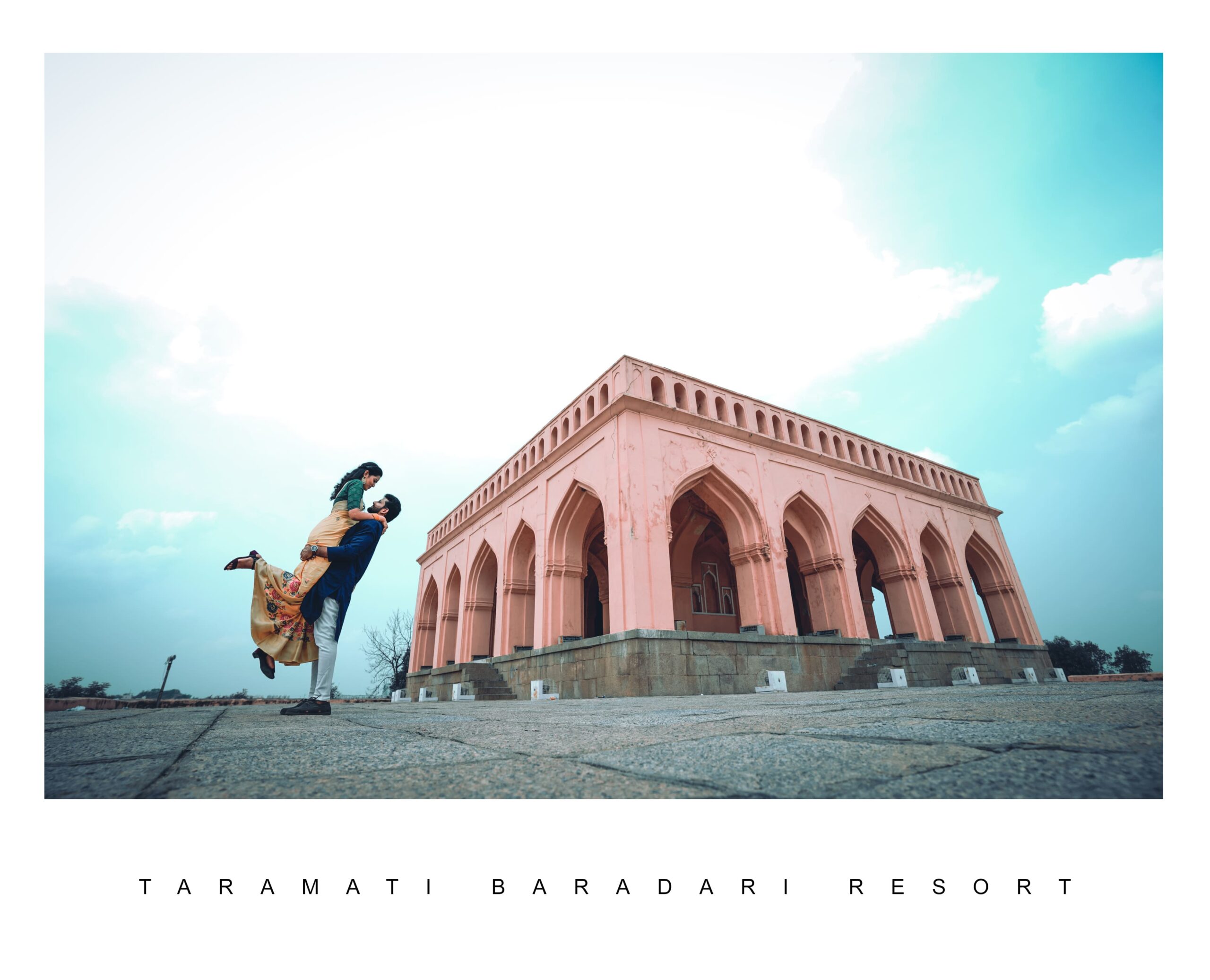 Known for its ambience and good infrastructure. It is run by Telangana Tourism. It is a pretty good location for budget-friendly pre-wedding shoots in Hyderabad. It delivers as per the needs. It has an open-air auditorium, conference halls, and banquet halls. It is a breath of fresh air and provides an excellent outdoor shoot location.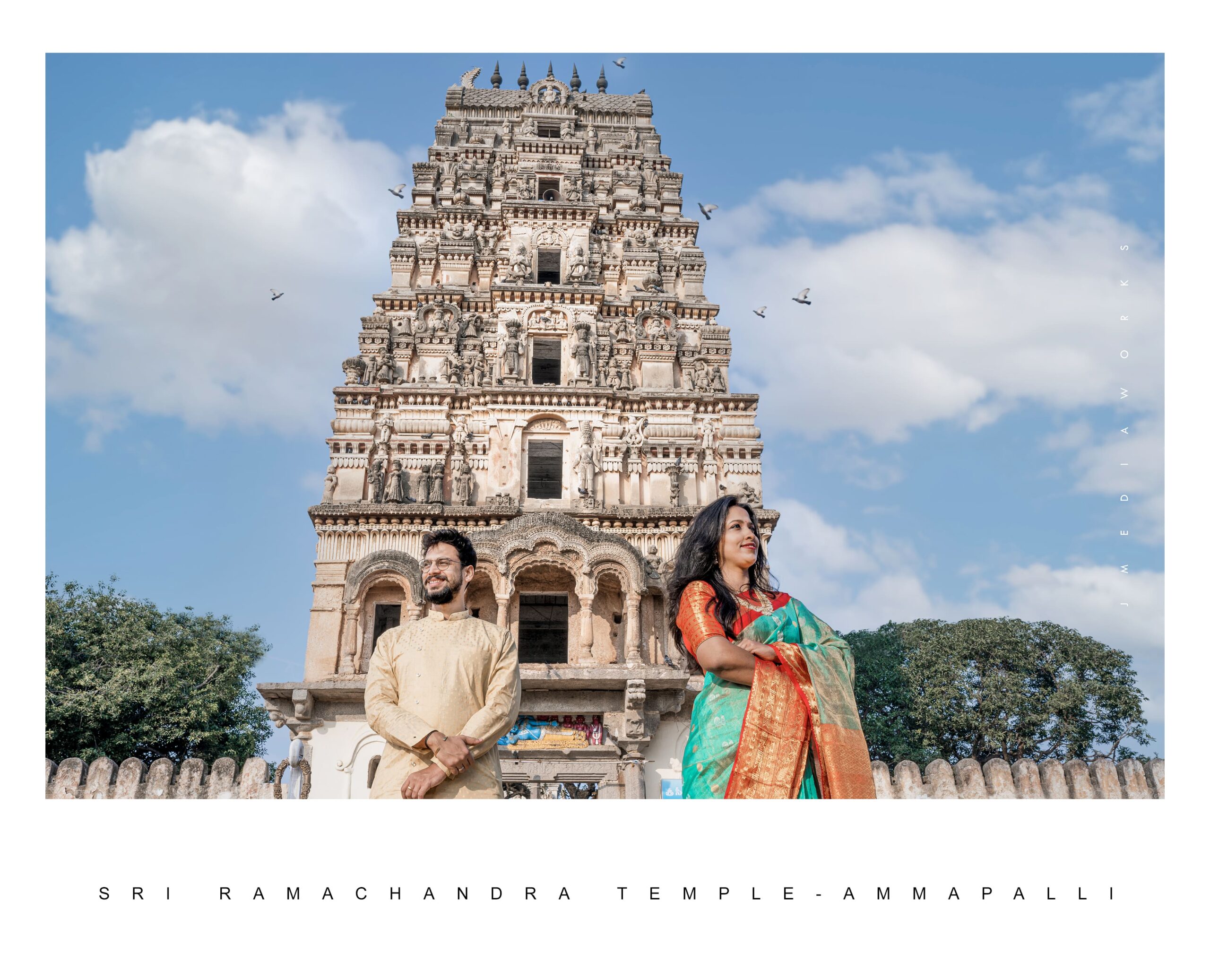 Located 30 km from Hyderabad, this ancient magnificent temple is very famous. It is mostly visited by tourists. It is also famous for film shoots. It was built in the 13th century by King Vengi. It has many Idols of Lord Ram, Sita and Laxman. It has ancient designs from black rock and is surrounded by a pond and coconut trees. Incredible location to start your martial journey from God's place.
Hyderabad Botanical Garden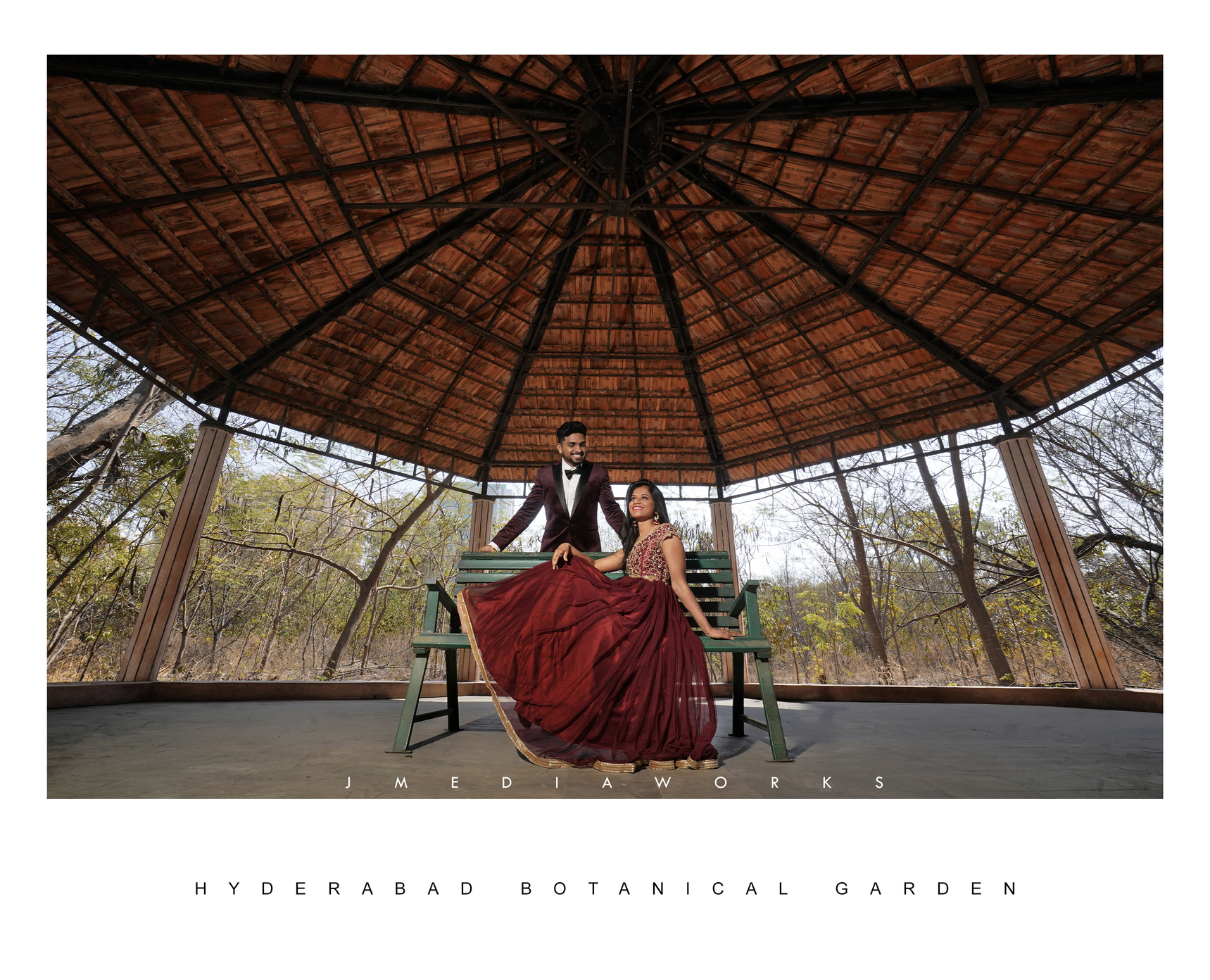 Also known as Kotla Vijaya Bhaskara Reddy Botanical Garden, named after the former Chief Minister of Andhra Pradesh with the same name.

As the name indicates it is a botanical garden, it's an ecological tourist place within a radius of 16 km from Hyderabad. It boasts of medicinal plants, beautiful meadows, natural water bodies, forest-like surroundings, rock constructions, and stunning gardens. It is one of the best places for budget-friendly outdoor shoot locations for pre-wedding photography in Hyderabad.
The Best Free Locations for Pre-wedding Photoshoot in Hyderabad
Charminar is one of the best places that will stand out with its old-school and aesthetic vibes. 
Including pre-wedding photoshoots, the old mosque has been renovated into a museum and is one of the most popular places to visit in Hyderabad when you want to take pictures 
Best time of the day – You can shoot at any time during the day or night depending on what kind of atmosphere you are looking for when taking photographs at this location! However, if possible try not to get there after sunset as it can be quite dark inside because there aren't many lights inside so we need to include some extra lighting so that everyone looks their best on camera!
Hussain Sagar Lake is one of the best places to have your pre-wedding photoshoot. It's a popular tourist destination and it has many spots where you can get pictures of Hyderabad's skyline, including near Hussain Sagar Lake itself. You'll also find plenty of trees around this area that will work well for portraits or group shots if you're looking for something different than traditional poses on an empty beach or at sunset over water (or both!).
We are already imagining some beautiful pictures with a sunset view!
Also, for the pre-wedding photoshoot to stand out you will need on-point makeup, styling, costumes, and accessories to enhance the pictures. 
Make – Up: The importance of make-up for a photoshoot cannot be overstated. Make-up is the first thing that people notice on a person's face, so it's important to have the right look for the occasion.
What to wear: Photographers use a variety of settings, backdrops and lighting to capture the perfect shot. It is important for us to know what to wear for photoshoots so they can get the best shots possible.
The dress code for a photoshoot depends on the type of shoot you are doing and what kind of message you want to convey. Photographers will typically give their guidelines about what they should wear and how they should pose.
Contact us to know more. We also help with suggestions in styling. 
Conclusion:

Pre-wedding photoshoots are a rage. It's like a never-ending trend. We at J Media Works believe in serving our customers with not just photographs but help them relive the beautiful moments behind the scenes. Our team is very helpful and supportive of the client.  We provide the right vibe for you to feel comfortable and bring the best out of you!